Slide 2
A TEAM OF EXPERIENCED ATTORNEYS
You don't just get backing and support of your attorney. You get an entire team.
Philips

Criminal

Forbes

Facebook

Mashable

Adidas

Social Security Disability (SSDI)
Philips

Drew Ralph Dempster Jr.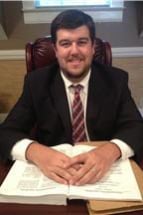 Drew is a second-generation attorney. Drew was born and raised here in Fayetteville, NC, and graduated from Pine Forest High School. Drew graduated from Methodist University in 2008 with a B.S. in political science and graduated from North Carolina Central University School of Law in 2012. After passing the State Bar, Drew worked as an assistant district attorney in Cumberland County prosecuting misdemeanors and felonies. Drew joined the law firm where he used his experience as a prosecutor to zealously represent clients ranging in charges from the simple seatbelt ticket to those clients charged with the most serious felony offenses. Along with his father Andy, Drew handles Automobile accidents and works hard to get his clients the most for their case. Drew is married to his high school sweetheart Lauren and they have two children Tripp and Ellie. When not at the office or courthouse, you can find Drew coaching his kids on the sideline all season long.
Tell Us About Your Case
Areas Of Practice
Education
Pine Forest High School, Class of 2005,
Methodist University, Fayetteville, North Carolina B.S. 2008
North Carolina Central University School of Law, Durham, North Carolina
Bar Admissions
Past Employment Positions
Cumberland County, Cumberland County District Attorneys Office
Awards and Accomplishments
Cumberland County Pro Bono Award 2018
Cumberland County Young Lawyer Award 2019.
Voted Readers' Choice Best Attorney in Fayetteville 2019, 2020, 2021, and 2022.
Philips

Criminal

Forbes

Facebook

Mashable

Adidas

Social Security Disability (SSDI)
Philips